SprintPCS Phone Usage Logger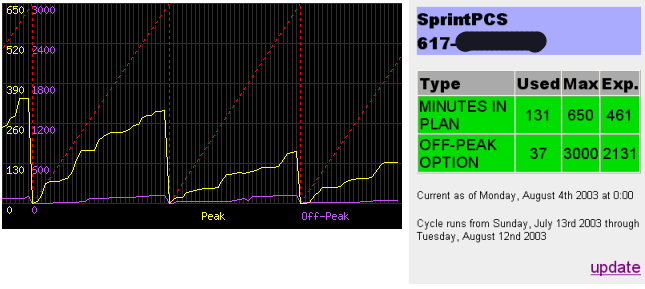 Do you use SprintPCS? Do you want to know how many minutes you have left on your monthly plan without having to remember to check? Use this script.
---
About SprintPCSLogger
SprintPCSLogger is a set of php scripts to automatically check your monthly minute usage. It plots your historical usage too. The idea is that you include your data on a web page that you viist often. (I have a "start" page that serves as my bookmark list, calendar, etc.) It's invaluable to avoid extra fees, and also for figuring out how big a plan you need.
Download
SprintPCSLogger is free (GPL). Get it here sprintpcs0.3.tgz.
Version History:
0.3: Current release, now works with Sprint's new website (as of Fall 2005).
0.2: Now handles a few more configurations. sprintpcs.tgz.
0.1: Initial public release
FAQ/Troubleshooting
How do I install it?

Please read the README. If someone wants to contribute an INSTALL file, that'd be great.
---
Everything you see here is (C) 2003 by Edwin Olson, eolson@mit.edu. Please feel free to link, but don't copy my content. Last modified: May 03 2006 20:23:30.